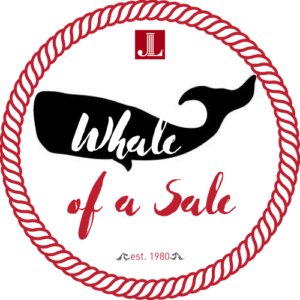 Whale of a Sale Returns Fall 2023!
Saturday, November 4, 2023
9 a.m. to 2 p.m.
Concord Mall
4737 Concord Pike, Wilmington, DE  19803
The Junior League of Wilmington's Whale of a Sale is one of the state's oldest and most time-honored fundraising events and is returning in the fall of 2023!  We will have updates on our website and on social media as they become available.
Since 1980, the JLW has held 37 Sales where generations of shoppers have returned for bargains on antiques, children's clothes and toys, books, furniture, holiday items, electronics, kitchen items, designer clothing, accessories, and much more.
Proceeds from Whale of a Sale support the Junior League of Wilmington's Mission to train women to be leaders in the community, as well as its community impact efforts.
Become a sponsor of the Whale of a Sale by contacting us at jlw@jlwilmington.org. Please join our Whale Email list and like our Facebook page to be notified of any updates and get a sneak peak of items for sale!