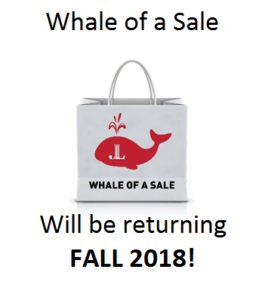 The date for our Fall 2018 Whale of a Sale has not yet been determined.  Keep checking back for updates, or join our Whale Email list to be notified of any updates!
Since 1980, Whale of a Sale has been known as "Delaware's Largest Garage Sale."  The Junior League of Wilmington collects donations from members and local merchants to sell to the community at affordable prices. In addition to gently-used items, the Whale of a Sale contains sections offering new merchandise, furniture, and antiques. This popular event draws many fans who often wait in line overnight to be the first to shop the Whale of a Sale.
This event is open to the public and attracts thousands of shoppers throughout the tristate region. Whale of a Sale has a large number of veteran shoppers including many who have been attending for more than years. Whale shoppers include business owners stocking up on antiques and  collectibles, fashion divas in leotards to make trying on clothes a snap, and savvy shoppers who recognize a good value.
Proceeds support the Junior League of Wilmington's mission and community programming.
Become a sponsor of the Whale of a Sale by contacting us at jlw@jlwilmington.org.