Celebrating 100+ Years of Impact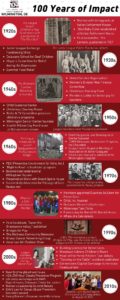 The Junior League of Wilmington commemorated its Centennial year in 2018. 
The Junior League of Wilmington Celebrates 100 Years
Throughout the years, the League has identified issues affecting the most vulnerable segments of our community, and created solutions to serve those populations. We've focused our community outreach on new immigrants, returning veterans, sick children and their families, senior citizens, teens aging out of foster care, and pregnant and parenting young women, among others.
The JLW is proud of the instrumental role it played in the founding of so many organizations that provide critical services in the greater Wilmington area. In addition, the League advocated for passage of the Foster Care Review Act in the 1980s, and more recently spearheaded passage of Erin's Law, to protect our children with mandated, age-appropriate sexual abuse prevention education in public schools. Over the last 100 years, the League has truly had an incredible influence on the community, with a depth and breadth of impact unmatched by most other organizations.
As the League celebrated and honored 100 years of empowering women and serving the Wilmington community, we invited members, past and present community partners, sponsors, and supporters to join us in commemorating the Junior League's centennial anniversary through centennial sponsorships  and our Centennial Brick Campaign which beautifully memorializes this moment in JLW history on the patio at our headquarters, the Lea-Derickson House, in historic Old Brandywine Village.  Bricks are personalized in honor of a member, company, community partner or donor.
We thank our members, community partners, sponsors and supporters for helping to make our Centennial year so special!