What is Whale of a Sale?
Founded in 1980, the Junior League of Wilmington's Whale of a Sale is one of the League's largest and most profitable fundraisers. Throughout the year, League members collect donations of new and gently used clothes, toys, books, furniture, housewares, electronics and more to sell at discount prices at the sale.
Where and when is Whale of a Sale held?
Whale is usually held in the fall at a site that is donated to us for our sale.  The 2023 Whale is being held at the Concord Mall, 4737 Concord Pike, Wilmington.  Mall entrance by Bonefish Grill.  Easily accessible from DART Route 2 bus.
Who attends Whale of a Sale?
Anyone who wants to find great deals at reasonable prices! There is a loyal Whale of a Sale following, many of whom are 20-year-plus veterans eager to kick off their holiday shopping. They come rain or shine, no matter where the sale is held. We typically have a line of shoppers before the doors open, and some die-hard "Whalers" even camp out overnight!
Among the regulars are professional dealers who line up to stock up on antiques and collectibles; fashion divas who know that there are no dressing rooms at Whale of a Sale and dress in leotards to try on clothes in a flash; and smart moms who realize the value of gently used toys, clothing and baby equipment. Also common are the do-it-yourselfers, fixer-uppers and tinkerers who head straight for the electronics area to rummage for the pieces they need whole or for parts. And then there are trashcan-toters who wheel in 90-gallon containers and fill them to the top with great buys!
How can I donate items to the Sale?
To donate items to the sale, please contact the Junior League at jlw@jlwilmington.org or call 302-652-0544.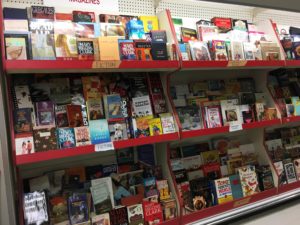 What do the proceeds from this fundraiser benefit?
Proceeds from Whale of a Sale support the Junior League of Wilmington's mission of training women to be leaders in the community, and its community impact focus of period equity. The JLW is committed to raising awareness of period equity through our initiative, Stand. Up. Period., and working towards ensuring individuals have affordable programs that provide period supplies.