The Junior League of Wilmington's Community Impact efforts are currently focused on addressing period equality.  Through the new initiative, Stand Up. Period., the JLW is committed to raising awareness of period equity in Wilmington, and working towards ensuring women and girls have affordable access to period supplies. The JLW will work with donors and community partners to build programs that provide period supplies free of charge to at least 250 women per month. The JLW will advocate for free period supplies in schools and public buildings, and also will support policies that ensure that no Delawarean has to choose between buying food or menstrual products.
"A year's worth of period supplies costs the average woman about $200," noted JLW President Kyle Evans Gay. "These products aren't covered by government assistance programs like WIC or SNAP, and they aren't eligible for purchase under federal flexible spending account or health savings account programs." Kyle continues, "Women and girls without adequate supplies miss out on school, work, and activities. The Junior League of Wilmington is prepared to provide essential supplies, and we will work to bring this issue to the forefront. Our hope is that a coalition of organizations serving women and girls will work together to eliminate period poverty in our City."
Other Projects:
One of our current community partners is The Delaware Adolescent Program, Inc. (DAPI), which the Junior League of Wilmington helped found in 1969. DAPI affords pregnant teenagers a means by which to continue their education and receive vital prenatal care.
It is the only statewide comprehensive school-based program serving pregnant and parenting teens and their families. The League's recent work with DAPI includes renovations to its common areas, the donation of critical baby and personal care items, and a Mother's Day family portrait event.
The League has also conducted life skills workshops at Bayard House, which is the only licensed residential program serving homeless or transitional pregnant minors in Delaware. Bayard House serves homeless, pregnant teens and young women and their families, 24 hours a day, 7 days a week. Its programs help them become nurturing parents and independent, contributing members of society. In addition to facilitating life skills workshops, the League hosted a Mother's Day family portrait event at Bayard House, and routinely collects baby and personal care items as well.
The League also frequently host events for granddaughters of the families served by the Wilmington Senior Center. Recent events have included an African dance workshop, springtime flower pot painting and decorating, a painting party, and a variety of holiday parties. The Wilmington Senior Center was founded by the Junior League of Wilmington and is located next door to our headquarters in the city's historic Old Brandywine Village. The Center is the premier local resource for adults age 50-plus, their families, and the community.
In 2017, we held our inaugural Teen Empowerment Summit with young women served by the Choir School of Delaware. Additional Teen Empowerment events are in the works.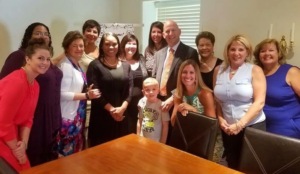 In 2016, the League spearheaded the passage of Erin's Law in Delaware, which requires publicly-funded schools to implement age-appropriate, prevention-oriented sexual abuse education. It was through the tireless efforts of Sustaining member and lead bill sponsor Senator Margaret Rose Henry and a special task force of League members that this statewide, bipartisan measure succeeded. Click here for details about this legislation.