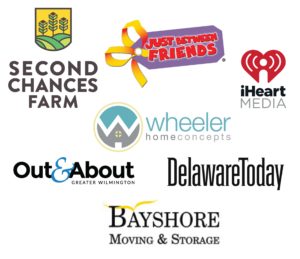 THANK YOU 2019 WHALE SPONSORS!
Blue Whale Sponsors
Second Chances Farm
Bayshore
In-Kind Sponsors
Just Between Friends
Humpback Sponsors
Delaware Today
Wheeler Home Designs
Beluga Sponsors
Out & About
Finback Sponsors
iHeart Media
Thanks for supporting our volunteers with your generous pizza donations!
Ciao Pizza – Newark, DE
Lucy's Pizza – Wilmington, DE
And Thank YOU.
You ensure the event's success and support the Junior League of Wilmington's mission and community programming through your donations.
There are a variety of opportunities to participate in Whale of a Sale. Please contact us to learn more about the ways you can become involved in future events.