Megan Cavanaugh has always had a passion for serving, starting from when she was a young girl in church. Growing up, she found herself volunteering for multiple nonprofits helping to spread awareness for breast cancer, feeding the poor, enriching the lives of children with cancer, and collecting donations for the homeless. Megan says "her heart is happiest when helping others".  In 2018, Megan saw news of how her friend in the Junior League of Wilmington helped pass Erin's Law and decided, "That's what I want to do. I want to be a part of an organization like that – one that is making a strong impact in the community." She started in the next provisional class available and became an Active member that spring. Her League journey started on the Kitchen Tour committee, where she was able to learn more about the League and our fundraising efforts, as well be part of a team of great members, to execute one of the League's biggest events. "It was incredible to work with a group of ladies so dedicated. And yes, we all get along!" said Megan. Her next League adventure was on the Community Impact (CI) committee. This is where her heart was. Megan started out as a committee member, but soon stepped into the role of co-chair to help lead the team. The following year, she was accepted as the Chair of CI and helped roll out the League's new 3-year plan and the new community based impact focus of Period Equity. She and her team laid the groundwork for the focus area to grow in the years to come. "It's the most rewarding work, to know you are able to help young ladies be their best person", she says.
Noreena Lewis is entering a new phase of JLW membership – becoming a sustainer.  Noreena initially joined the League to meet like-minded women and to get to know Wilmington since she is not from the area originally.

"Becoming a sustainer happened so quickly but the path to where I am now has been so fulfilling and has given me experiences I could never replace. I've also made some of the most amazing friends, which has truly been the most wonderful part of my League experience", she says. Without really planning it, Noreena's placements and positions in the League all took a membership slant."I held placements in the Recruiting, Provisional, Nominating, and Member Development committees. I rounded out my active membership by serving two years on the Board of Directors as Vice President of Membership. I have met so many different and talented women, from a variety of backgrounds – all with the common goal of training women to be leaders in our community. I am most excited about the new community impact initiative of bringing about menstrual equity in Delaware and am looking forward to contributing as a sustainer to this incredibly worthwhile initiative." Noreena hopes that someday, her own daughters will have the opportunity to serve their community through the Junior League.
Lindsay Lancaster's desire to make a difference in the community and to learn anything and everything related to the nonprofit sector led her to join the League. As a transplant to Delaware, she was also eager to make new friends and explore a new career path in the nonprofit sector.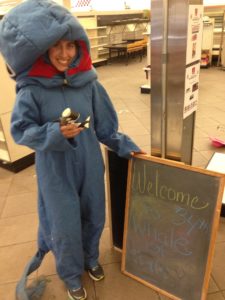 She discovered the League through the traditional July Iced Tea and attended out of curiosity upon receiving an invitation from a friend. Without knowing or understanding the League, Lindsay says "she thought it would likely be a "hoity-toity" group." However, Lindsay recognized her own prejudice and realized that the women she met shared a common interest in hands-on volunteerism. Later, she learned that the Junior League of Nashville, Tennessee was instrumental to her grandfather's efforts in starting the children's hospital at Vanderbilt. She decided to join the League in 2013 and hasn't looked back. Lindsay has served on several committees and has engaged in a variety of learning opportunities which have been invaluable to her growth and development. Through the Community Impact Committee, she had the opportunity to plan and participate in different outreach activities to build and strengthen the community as well as begin to explore a new focus area. She enjoyed serving on the Whale of a Sale Committee and seeing the joy and excitement of shoppers finding new beloved treasures (and even dressing up as the Whale!) As an introvert, the Recruiting Committee challenged her to improve her networking skills. The Nominating Committee gave her insight into nonprofit governance and the decision-making process in slating new leadership. In her most recent position as Assistant Treasurer/Treasurer, she says "I learned new skills to help the League use its finances to carry out its mission. I look forward to my role on the Member Development Committee this year to foster an inclusive space for learning and growth." Whether it's volunteering in the community, learning a new skill, or making a new friend, Lindsay is eager to help members make the most of their League experience.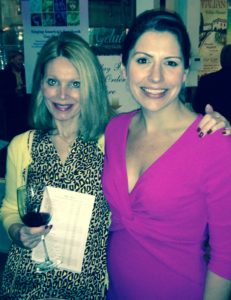 Jinni Hayes' passion for voluntarism and empowering others began during childhood. Growing up in the foster care system, she learned early how simple acts of kindness and the giving of time and talent could transform an individual's world. Witnessing her great-grandmother's volunteer involvement with Wilmington Garden Day and the National Alliance on Mental Illness, Jinni also learned the importance of giving back to the community at large. "As an adult, I realized I wanted to repay and replicate the generosity that I had experienced growing up," Jinni recalls. "After reading about the incredible work the Junior League of Wilmington was doing with the Woodlawn Library and promoting literacy, I knew this was an organization I wanted to join!" Jinni's involvement with the League has changed her life. Through various committee positions, leadership roles and service on the Board of Directors, she planned, coordinated and directed successful fundraising programs, public relations efforts and community programming and oversaw the development and implementation of a comprehensive fund-development plan. As the League's president during 2012-13, she gained further capacity-building and leadership experience in operations, fundraising and membership. "As a result, I found I was qualified for many nonprofit positions," she says. "I worked at the American Lung Association in Delaware as a development manager before taking a position as an integrated media consultant for WSTW/WDEL. I also serve on the Grant Committee for the Delaware Community Foundation Fund For Women, with the United Way Women's Leadership Steering Committee and in the Christiana Rotary." Jinni embodies the Junior League mission, showing the impact that the effective action of a trained volunteer can have in the community she chooses to serve.
Catherine Alvarez's mother was a member and president of the Junior League of Baton Rouge, Louisiana, so Catherine spent many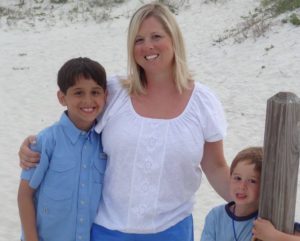 childhood hours doing her homework at headquarters or helping with various League tasks and activities. As she grew older, she came to realize that the women she encountered were wonderful friends who provided a much-needed support system to each other through so many of life's ups and downs. They also were a very powerful force in the community, with many going on to lead nonprofits, head businesses and hold political office. Catherine was living in Atlanta when she joined the Junior League herself in 2002. A move to the Brandywine Valley led her to transfer to the Junior League of Wilmington in 2007. "I immediately found the JLW to be very warm and welcoming, and my member advisor immediately went out of her way to try to find people living near me who might have something in common," she recalls. "I also loved that I could become involved at a significant level right away and that there was never that sense of seniority or that you had to wait your turn to contribute significantly." Serving on the Kitchen Tour Committee, Catherine loved the uplifting sense of camaraderie and accomplishment its members developed. She then chaired the Communications Committee and, before becoming a Sustainer in 2013, spent three years on the Board of Directors as secretary, assistant treasurer and treasurer. "Serving on the Board is something I highly encourage all Junior Leaguers to try," she advises. "You will gain a wealth of knowledge about nonprofits, develop a sense of pride in our organization from a different perspective and make friends who will be by your side as you go through the major events of your life." Catherine also greatly appreciates the hands-on career training she received. It was her League experience that helped her procure a job at Kind to Kids when she transitioned from being a stay-at-home mom in 2012. She has since become the development director for the Delaware Branch of the Juvenile Diabetes Research Foundation. "Whether you want to be an executive director, a fundraising professional or coordinate the day-to-day operations of a start-up nonprofit," she says, "you will find the experience you need with the League."