The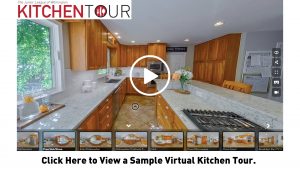 Kitchen Tour showcases some of the area's finest kitchens!  Take this self-guided virtual tour and be inspired by fabulous kitchen renovations.
We also hope you will join our virtual cooking classes and learn to make delicious dishes from favorite local restaurants and chefs.
2020 Kitchen Tour ticket holders will receive an email in March about how to access the 2021 Virtual Tour and register for their free Virtual Cooking Class.  
For additional information, please contact:  kitchentour@jlwilmington.org.
---
During checkout, Virtual Tour ticket purchasers will be asked to enter the number (1-5) associated with the Cooking Class they would like to attend for free.  If a number is not specified we will assign one.  Cooking Class descriptions can be found below.
We will email links for the Virtual Tours and Cooking Classes using the email address you provide with your billing information during checkout.
Virtual Tour tickets can be purchased through 5 p.m. on 4/25.  Purchased tour recordings will be available through 4/30.
One ticket per household is required.