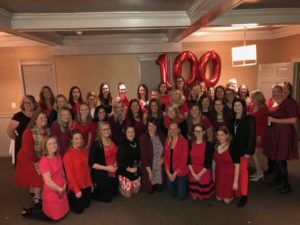 For over a century, the Junior League of Wilmington (JLW) has been instrumental in meeting current community needs.
Our focus area shifts as pressing priorities are identified, but our commitment to building a better community and training our members to lead and serve never wavers.
In August 2019, the JLW announced their latest campaign addressing Period Equality, Stand Up. Period.  The League is committed to raising awareness of period equality in Wilmington and working towards ensuring women and girls have affordable programs that provide period supplies.
Why Stand Up. Period.? 
We are standing up because we think girls and women deserve equitable access to period supplies. No one should miss out on life – school, sports, activities, work – because they lack the means for adequate pads and tampons. And because everyone with a period has experienced a moment where they wonder if their period protection was enough…we want to help girls and women confidently Stand Up. Period.