Women's Leadership Summit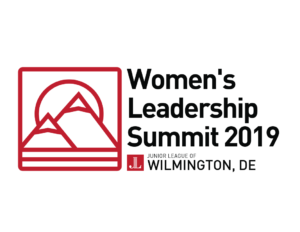 Date:
Saturday, March 2, 2019
Location:
Executive Banquet & Conference Center
205 Executive Drive Newark, DE 19702
(Easily accessible from I-95, Rt. 896 and Rt. 40)
Tickets:
Now available!  Click here to purchase yours.
Early bird tickets available through January 18, 2019.
We hope to see you at the Summit!
Exhibitors:
The Summit welcomes businesses and services to exhibit, please
email jlw@jlwilmington.org for more information or click here to purchase a table.

Sponsorships:
Sponsorship information for the 2019 Summit is available here.
Interested parties may email jlw@jlwilmington.org for more information.
In-Kind Donations:
Interested in donating pens, pads of paper, folders, raffle items, or other items to the Summit? Contact us at (302) 652-0544 or email jlw@jlwilmington.org to let us know!
______________________________________________________________________________
About the Summit:
Join us for the Junior League of Wilmington's fourth annual Women's Leadership Summit – a one-day comprehensive personal development opportunity for women seeking to fine-tune their leadership skills. Connect with like-minded individuals and learn from women leaders to become better equipped to lead in your community, your organization, and your life. Our theme this year is Our Time is Now!
The Women's Leadership Summit will be beneficial to many women of diverse backgrounds, including:
Professional Employees and Managers in Private Business, Government, and Non-profit Organizations

Those Interested in Becoming Community Leaders

Business Owners and Entrepreneurs

Those Looking to Re-Enter the Workforce
What to Expect:
The 2018 Summit included keynote addresses by local entrepreneur Alisa Morkides, founder of the Brew HaHa! chain of coffee shops, and Jacqueline Means, founder of the Wilmington Urban Chess Initiative and host of Girls Empowerment STEM events. In addition, there was a diverse program of speeches, panels, and workshops featuring a wide spectrum of presenters. Stay tuned for more information about the 2019 Summit- coming soon!
______________________________________________________________________________
Proceeds of the Women's Leadership Summit will support the Junior League of Wilmington's mission of promoting voluntarism, developing the potential of its members, and improving the community through the effective action and leadership of trained volunteers.
The League's current community impact efforts focus on empowering young women to reach their potential and in turn positively impact the community. Our work this year includes hosting empowerment and leadership workshops for girls, as well as life skills workshops and other events with our partners Delaware Adolescent Program, Inc. and Bayard House. The League has also continued to promote sexual abuse prevention education and awareness, having recently spearheaded passage of Erin's Law in Delaware. The law provides for age-appropriate, prevention-oriented sexual abuse education in public schools, and Governor Markell signed the bill into law during a ceremony at League headquarters in August 2016.
The Junior League of Wilmington trains women to be high-impact volunteers and to serve in leadership roles in the nonprofit community.  We provide our members with an array of formal training and experiential learning opportunities in our efforts to prepare them to serve the community beyond our organization.  Some examples of the training through experiences are the opportunity to lead committees, run major fund raisers, present life skills workshops in the community, cultivate fund development activities, and manage, recruit, retain, and train new members.