Women's Leadership Summit

Embracing Change: Exploring New Landscapes at Home, Work, and Wellness
February 25, 2023 
Join us for our eighth annual Women's Leadership Summit at Ed Oliver Golf Course from 11 a.m. to 3 p.m. This 4-hour event will feature dynamic speakers on change, resiliency, and leadership. Join other attendees as you learn how to recharge, reinvent, and adapt to living in a post-pandemic world. 
Click here to purchase tickets!
This year's program will feature a fireside chat during lunch with Traci Murphy, Executive Director of the Delaware Coalition Against Gun Violence, and Delaware State Senator Kyle Gay as moderator. Attendees will also hear from award-winning 2x TEDx and global keynote speaker, Henna Pryor, PCC who her clients call their "secret weapon for impossible change". Additional event activities include vendors, headshots and networking.
Interested in reserving an Exhibitor table?  The cost for an Exhibitor table is $100. Exhibitors will receive an 4-8 ft table with chairs for a maximum of two people and one Summit ticket. Exhibitors have the option to purchase additional Summit tickets at the Junior League Member rate of $45 per ticket. Please complete this online form and make your check payable to the Junior League of Wilmington. Checks can be mailed to 1801 N Market St., Wilmington, DE 19802. For questions, please email jlw@jlwilmington.org.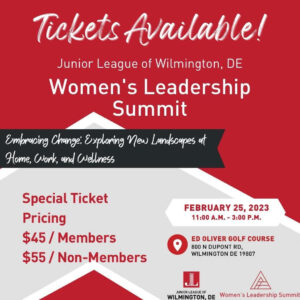 ______________________________
Proceeds of the Women's Leadership Summit will support the Junior League of Wilmington's mission to advance women's leadership for meaningful community impact through volunteer action, collaboration, and training.
The League's current community impact efforts focus on making access to period products a human right in Delaware.  Through its new initiative, Stand Up. Period., the JLW is committed to raising awareness of period poverty, and working towards period equity.  Menstrual – or period – equity refers to removing the barriers that prevent individuals particularly those living in poverty, from being able to manage their menstrual cycles and participate fully in their lives. Those who lack adequate period supplies experience school and work absences, opportunity losses, and emotional distress. And while individuals are suffering, societal stigmas often preclude open discussions about period equity.
Through strategic partnerships with local stakeholders and donors, the JLW will work to build programs that provide period supplies free of charge, will advocate for free period supplies in schools and public buildings, and will support policies that ensure that no Delawarean has to choose between buying food or menstrual products.
The League has a storied history of launching and supporting ground-breaking initiatives in our community.  In recent years, the League has promoted education and awareness to prevent child sexual abuse, and spearheaded passage of Erin's Law in Delaware. The law provides for age-appropriate, prevention-oriented sexual abuse education in public schools.  Governor Markell signed the bill into law during a ceremony at League headquarters in August 2016.
The Junior League of Wilmington trains women to be high-impact volunteers and to serve in leadership roles in the nonprofit community.  We provide our members with an array of formal training and experiential learning opportunities in our efforts to prepare them to serve the community beyond our organization.  Some examples of the training through experiences are the opportunity to lead committees, run major fundraisers, present life skills workshops in the community, cultivate fund development activities, and manage, recruit, retain, and train new members.