The Junior League of Wilmington spearheaded the passage of Erin's Law in Delaware. In June 2016, The First State became the 28th state to pass Erin's Law, which requires that publicly funded schools in implement a prevention-oriented child sexual abuse education program (click here for details about this legislation).
The Junior League of Wilmington has focused its community impact efforts on improving the health and well-being of children for more than five years, but had not been involved in a legislative advocacy project since it led the adoption of Delaware's Foster Care Review Act more than three decades ago. On August 10, 2016, Delaware became the 28th state in the nation to enact Erin's Law. Governor Jack Markell signed the bill into law in a ceremony at JLW headquarters, and Erin Merryn, a child sexual abuse survivor and advocate for whom the bill is named, joined via teleconference.
During our work to advocate for Erin's Law, the JLW educated members in the process of creating a law, formed a task force of members committed to the cause and willing to take on additional League work beyond their existing membership requirements, and researched the law's components as well as hurdles the law had encountered in other states. Members drafted rebuttals to the potential opposition and reached out to community members and nonprofit organizations such as Prevent Child Abuse Delaware and the Beau Biden Foundation for the Protection of Children for input and support. We approached Senator Margaret Rose Henry (a JLW Sustainer) to introduce the law, and reviewed drafts of the law. We met with Senator Henry, her aides, other sponsors of the bill and representatives from the supporting organizations and entities such as the Delaware State Board of Education and Delaware Charter Schools, to discuss and edit the proposed bill. And, we traveled to Dover to testify in committee and on the Senate floor, as well as attended both votes for adoption and on the Senate floor, as well as attended both votes for adoption.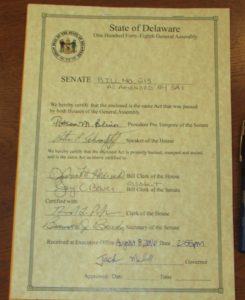 The Association of Junior Leagues International (AJLI) award the Junior League of Wilmington its Public Policy and Advocacy Award at its May 2017 Annual Conference.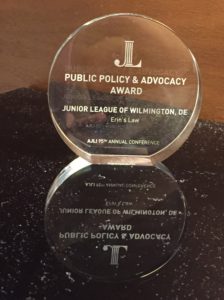 The JLW plans to continue its advocacy work in the area of children's sexual abuse education and prevention.