The JLW Accepts the Governor's Outstanding Volunteer Service Award
The Junior League of Wilmington, DE is honored to accept the Governor's Outstanding Volunteer Service Award. Our Members have a shared vision, which is to be a catalyst for lasting community change by empowering women to be leaders and make a difference in their community. In 2019 we focused our efforts on the topic of period equity because we believe no person should have to miss out on living life to the fullest just because they can't afford menstrual supplies. For over two years now, our Members have been committed to raising awareness of period equity in Wilmington and working towards ensuring individuals have affordable programs that provide period supplies. It hasn't always been easy, and the COVID-19 pandemic sure shook up our plans, but this award reminds us that the work we are doing truly matters to the community.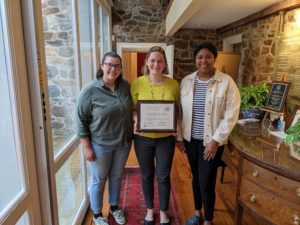 All of our members have contributed in some way or another.
Our Community Impact Committee oversees our period bank inventory and organizes one-time and ongoing donations with partners throughout the community. This year alone, they have distributed over 250,000 period products.

Our Public Policy & Advocacy Committee worked tirelessly to support legislation that requires public schools throughout the state to provide period supplies, free of charge, in school bathrooms.

Our Communications Committee has been the driving force behind our marketing materials that help our public outreach and awareness goals.

Our Diversity, Equity & Inclusion Working Group has educated both our League members and the general public about the diverse experiences of people who menstruate.

Our Members have also donated supplies, helped unload a shipment of over 100,000 pads, assembled period packs, and talked openly about period equity to help us break down the stigma around menstruation.
The Junior League of Wilmington remains committed to addressing the vital need through direct service and advocacy, and by building a coalition of individuals and organizations that can work collaboratively to eliminate period poverty in our state. Receiving the Governor's Outstanding Volunteer Service Award reminds us that our work is needed and will motivate us as we continue this journey.