2022 Speakers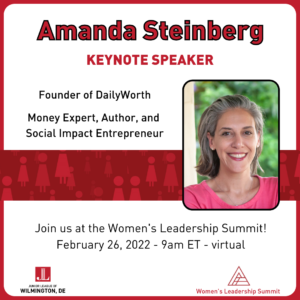 Amanda Steinberg is a personal finance expert with a career that spans finance, digital, and social activism. In 2009, she founded DailyWorth, a startup focused on women's financial prosperity. As CEO of DailyWorth, she published financial advice daily to an audience of over 1 million women. She won multiple awards for DailyWorth including Oprah Winfrey's inaugural Super Soul 100 and Forbes' 21 New American Money Masters. Her journey and experience are documented in her critically acclaimed book Worth It: Your Life, Your Money, Your Terms. DailyWorth was acquired by HerMoney Media in 2017. Since 2017, Amanda has focused on digital fundraising for political campaigns and non-profits. In 2019, Steinberg led digital fundraising for Marianne Williamson for President. She's a graduate of Columbia University with a degree in Urban Studies. In her free time, she and her husband author Jordan Shapiro are raising 4 teenagers.
---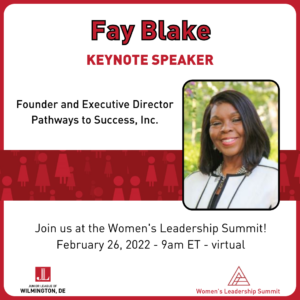 Fayetta M. Blake is the founder and Executive Director of Pathways to Success, Inc. She is also an entrepreneur with several businesses throughout Delaware and Maryland. Fay started her career about forty years ago in the Lending industry with Security Pacific National Bank where she worked as a loan officer for five years. She then enjoyed a 20-year banking career at All First Financial. Fay held various positions of increasing authority at All First Financial. In 1995, she was appointed as Sr. Vice President of Operations and was the first African American to be appointed to that level in the banks 200-year history. During that time, she had global oversight of all Operations units in the Mid-Atlantic region. In 1998, Fay was recognized by this banking institution for Quality Assurance as well as being recognized in the industry by Visa USA for Quality Service and Outstanding Customer Service.
Pathways to Success, Inc. was established in 2006 by Fay Blake. The work that Fay does as the Executive Director is indeed her calling and passion. It embodies her need to give back to the community.
In 2014 Fay was recognized as one of Delmarva Broadcasting's "Delmarvelous Women." In 2015 she was recognized for her efforts to aid and assist the underserved communities throughout Sussex County with the Jefferson Award, and in 2018 she was one of Delaware Today's top Women in Business. In 2020, Fay was inducted into the Delaware Women's Hall of Fame and the Indian River Hall of Fame. In 2021, she became an appointed member of the Public/Private Partnership Board of Directors to serve at the pleasure of the Governor. She is a board member for Habitat for Humanity, Lewes Historical Society, a member of the Southern Delaware Alliance for Racial Justice and the DTCC Development Council. She is also a Chairperson of the DANA Public Policy Board as well as a Fund for Women Founder. Recently, she was asked to join the MD/DE/DC ACT council that helps to shape the education and workforce landscape at local and state levels.
She holds a BS degree in Behavioral Science proudly from Wilmington University where she is a member of Phi Gamma Mu, International Honor Society for Social Sciences.
---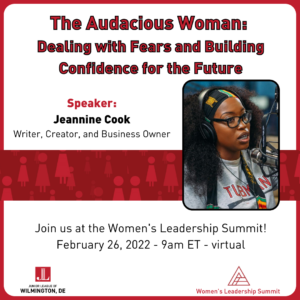 For the last 10 years Jeannine A. Cook has worked as a trusted writer for several startups, corporations, non-profits, influencers, and most recently herself. In addition to her holding a master's degree from The University of the Arts, Jeannine is also a Leeway Art & Transformation grantee and winner of the South Philly Review Difference Maker Award, Philadelphia Magazine's Best of Philly, Women Leading the 175th, the PACDC Equitable Entrepreneur Award, and the Metro's Power Women Award.   
Jeannine's work has been recognized by several national and international news outlets including Vogue Magazine, Forbes, Inc., Washington Post, Oprah's Magazine, MSNBC, and the Today Show. She is a proud educator and mother with 8 years of teaching creative storytelling in alternative schools and on city blocks. She recently returned from Nairobi, Kenya and Birmingham, UK where she facilitated art and social change workshops with youth from 15 countries around the world. 
Jeannine writes about the complex intersections of motherhood, activism, and the arts. Her pieces are featured in several publications including a column in Philadelphia Stories and articles/short stories in Princeton University Press, Philadelphia Inquirer, Mothering Magazine, Girl God, Mahogany Baby, Good Mother Project, Printworks, Adelaide Magazine and midnight & indigo. 
In February 2020, Jeannine completed her first book of short stories, Conversations With Harriett and became the proud owner of Harriett's Bookshop in the Fishtown section of North Philadelphia. Ida's Bookshop in Collingswood, NJ was opened this Summer.
---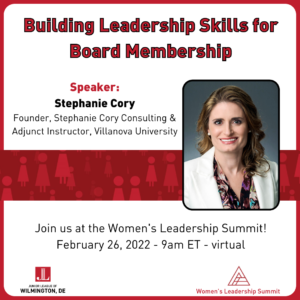 Stephanie Cory has dedicated her career to the nonprofit sector since 2003 in a variety of roles from program manager to development director to executive director. She is the principal of Stephanie Cory Consulting where she helps nonprofit organizations strengthen their governance, leadership, and fundraising. Stephanie is also adjunct faculty for Villanova University where she teaches a variety of nonprofit topics. Demonstrating her commitment to education and model practices, she is a Certified Governance Consultant through BoardSource and Licensed Standards® for Excellence Consultant. Stephanie earned her designation as. Chartered Advisor in Philanthropy (CAP®) from the American College of Financial Services and is a Certified Fundraising Executive (CFRE). A dedicated member of the Association of Fundraising Professionals (AFP), she has served on its global board of directors, earned the designation of AFP Master Trainer, and currently serves as president of the Brandywine Chapter. Stephanie is a past president of the Junior League of Wilmington among other board roles. She has additional experience as a board member for other community, professional, and membership organizations for a total of 30 cumulative years of board service. Stephanie is a frequent writer and speaker on a variety of nonprofit topics. She authored a chapter on boards and fundraising for the second edition of The Handbook of Board Governance, which was published by Wiley in 2020. Stephanie earned a BS and MS from the University of Southern California as well as an MEd from Temple University. She was honored as one of Delaware's top 40 female business leaders of 2021 by Delaware Today.
---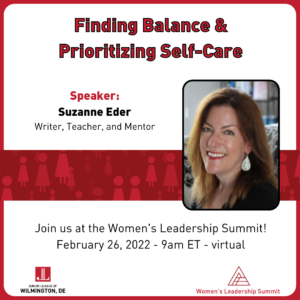 Suzanne Eder is an award-winning writer, transformational teacher and personal mentor, helping people create awake and inspired lives through what she calls the Alchemy of Self Love. She is a graduate of the 4-year program in mind-body-spirit healing at the Barbara Brennan School of Healing.  Suzanne was a featured speaker at the 2015 TEDx Wilmington conference and her popular talk is available on YouTube. Suzanne is known among her clients as a deeply wise, loving and intuitive mentor. She lives what she teaches and is, in the words of best-selling author Tama Kieves, "the real deal."
---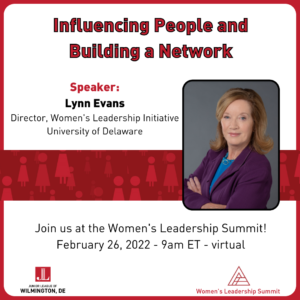 Lynn Evans brings over 35 years of experience working for top-tier global financial organizations to the Women's Leadership Initiative (WLI) team. Her expertise includes business strategy, client experience, talent management, and institutional sales.
Prior to joining the University of Delaware, Lynn was Managing Director and Head of Americas Institutional and Global Liquidity Client Service for J.P. Morgan Asset Management. Prior to joining J.P. Morgan, she spent 20 years with BlackRock. As a Managing Director and member of BlackRock's Global Liquidity Management Team, Lynn served in senior roles including Head of U.S. Sales and Product Strategy and Chief Operating Officer. She also spent many years as both a portfolio manager and client strategist for short fixed income strategies.
Lynn is a graduate of the University of Delaware and holds a B.A. in Economics and Political Science. She is currently Treasurer on the Board of Trustees for the Fund for Women, Co-chair of 2020 Women on Boards (Wilmington), and a member of the investment committee for the Delaware Community Foundation.
---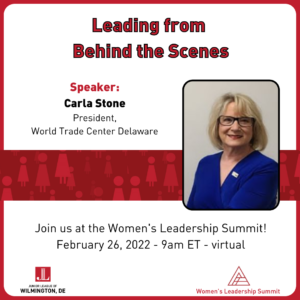 Carla Sydney Stone is the President of the World Trade Center Delaware (WTC Delaware) where she leads the WTC Delaware and serves members and companies from all sectors in Delaware and the surrounding region to numerous international organizations and government agencies, as well as regional and state and non-government organizations and the Delaware Legislature. 
She is a World Bank Group Private Sector Liaison Officer.  
A member of and signatory to the World Trade Centers Association Agriculture Member Advisory Committee, she is also active as representative to the Export-Import Bank of the United States (EXIM); the United States Overseas Private Investment Corporation Partners Program (OPIC); United States Trade and Development Agency (USTDA); Making Global Local Partnership; the US Department of Commerce US Commercial Service Strategic Partnership. 
Prior to joining WTC Delaware, Ms. Stone was an organizer of the NATO Science for Peace and Security Program "Benchmarking Telemedicine: Improving Health Security in the Balkans," and is editor of the book by same name, published by NATO, IOS Press, in October 2017. 
Her international career spans over 30 years in every content except Antarctica, primarily at the intersection of engineering, public health, education, and the environment.
She began her career in the minerals industry as an underground mining engineer in Appalachia.
She has been honored by the University of Agronomical Sciences and Veterinary Medicine of Bucharest, Romania, with an Honorary Doctor Degree, its Gold Medal of Honor, and a special Commendation for her work in that country.
Ms. Stone also has been honored by the US Small Business Administration with the "Exporter of the Year Award,"  and, by Cankiri Karatekin University, Turkey, and People to People International. 
The author or editor of more than 40 books and technical papers, Ms. Stone is a graduate of Columbia University's (New York) Henry Krumb School of Mines, with a B.S. degree in Mining Engineering, Geophysics Option, and M.S. degree in Mining Engineering and Mineral Economics. She has additional certifications in Project Management for Development, wastewater and water operations, and OSHA. 
She is a sought-after speaker on the subjects of international trade, telemedicine, cross-border standardization of regulation for the certification of personnel in the environmental sector, as well as telemedicine and sustainability.
---
Bett is President for the Association of Junior Leagues International, Inc. and is a passionate and tireless advocate for The Junior League as it sets the standard for women's leadership. She is a sustaining member of the Junior League of Columbia, where she has served as a council Vice President and President. Bett previously served on the AJLI Board of Directors and chaired the AJLI Governance Committee. In her professional work, she leads strategic communications, branding, and media relations as the Chief Communications Officer for Children's Trust of South Carolina, the state's organization working to strengthen families and prevent child abuse and neglect. She also serves as the Vice-Chair of the Communications Committee for the Children's Trust Fund Alliance, the national organization for state Children's Trust and Prevention Funds. Bett is a graduate of Wake Forest University, earning her B.A. in English and Politics.
---