Sen. Kyle Evans Gay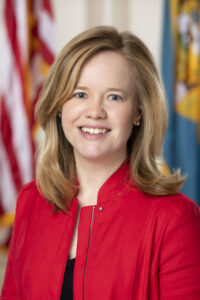 Sen. Kyle Evans Gay represents the Fifth Senate District, which encompasses sections of Brandywine Hundred, including the Ardens and  Claymont.
Sen. Gay was raised in Kennett Square, Pa. After graduating from Unionville High School, she earned a bachelor's degree in international relations and history from Brown University and a law degree from Boston University.
Sen. Gay began her professional career as a deputy attorney general in the Delaware Department of Justice before clerking in Delaware Superior Court. She has worked in private practice representing clients in Delaware's business courts since 2014. She also practices pro bono on behalf of children in foster care.
Sen. Gay has volunteered with several Delaware nonprofits, led multiple professional and civic organizations, and served on Delaware's Public Integrity Commission. She also is a past president of the Junior League of Wilmington and a founding member of Spur Impact Association, an organization that encourages civic engagement among young professionals. She currently serves on the board of the Delaware Bar Foundation.
After becoming a vocal advocate for the successful Equal Rights Amendment to the Delaware Constitution, Sen. Gay was elected to the Delaware Senate in 2020, becoming the first Democrat to represent the Fifth Senate District in more than 40 years.
She currently serves as chair of the Senate Elections & Government Affairs Committee, co-chair of the Legislative Oversight and Sunset Committee, Vice-Chair of the Judiciary Committee, and a member of both the Senate Transportation Committee and the Senate Veterans Affairs
Committee.
Sen. Gay lives in Heatherbrooke with her husband Olin and their daughters Ellen and Alice.
Traci Murphy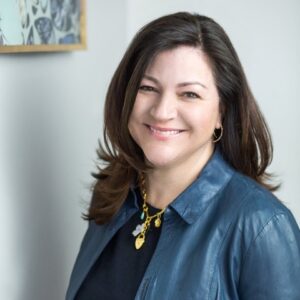 Traci Manza Murphy is the Executive Director of the Delaware Coalition Against Gun Violence, which is Delaware's only statewide, Delaware-focused gun violence prevention education and advocacy organization. A University of Delaware graduate, she is an avid reader and very amateur tennis player. She lives in the Hockessin area with her husband and their three teenagers.
Henna Pryor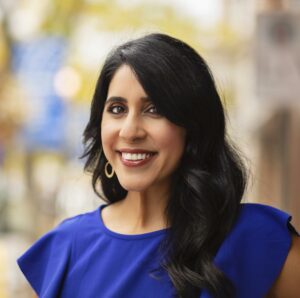 Henna Pryor, PCC is a highly sought after Workplace Performance Expert and an award-winning keynote speaker, virtual presenter, team facilitator, and professional executive coach. Her clients call her their "secret weapon for impossible change," an honor she wears proudly.
She does not accept excuses, and believes that the very qualities that have led high achievers to their current success are precisely what hold them back from even greater levels of accomplishment and personal fulfillment. She is known for her ability to improve the performance, habits, and actions of hungry high achievers – in her fun, no-nonsense, no-jargon way – to move them from their first level of success to their next one.
An accomplished speaker and trainer, she has been invited to speak at TEDx in New York City and to a variety of global organizations including Google, Workday, FIS Global, and Johnson & Johnson. She has also been featured in articles for media including Forbes, Real Simple, Fast Company, and more.
Henna founded Pryority Group to realize a vision that transformational speaking, coaching, and performance growth workshops shouldn't be limited to the C-Suite, and because she believes the key to most people's success is leaning into awkwardness a little more and worrying about stinking a little less. (She might just have you do both.)
Throughout a 14 year career in staffing, Henna broke multiple records and successfully matched over 1,000 finance and accounting professionals into new opportunities, with companies ranging from early-stage startups to Fortune 500 global organizations. While there, she won Rookie of the Year, Performer of the Year, and was a perennial top 10% performer, earning the attention of several publications, podcasts, and more.
She graduated with honors with a BS in Finance from the University of Delaware and her MS in Accounting from University of Virginia. She also earned her Coaching Certification from American University and achieved her Professional Certified Coach (PCC) credential through the International Coaching Federation.
She's also a lifelong learner – she's been studying human behavior and performance for over 2 decades and loves to bring a fresh energy to business practices and conversations. She also loves traveling the world with her husband and 2 kids and spoiling the Cavapoo puppy that she swore she never wanted (and now can't get enough of).