Pastry Chef Brid Lee-Egan
Recipe: Seasonal Fruit Tart Dessert 
List of Bakeware Needed: 
Kitchen Scale
Mixer
9″ Tart Shell Pan
Sheet Pan/Cookie Sheet
Small/Medium Bowls for Measuring
Small & Medium Pot
Plastic Wrap
Cutting Board
Rubber Spatula
Paring Knife
Fork
Peeler
Pastry Brush
Rolling Pin
Whisk
Ladle
Small/Medium Off-Set Spatula
Meet Pastry Chef Brid: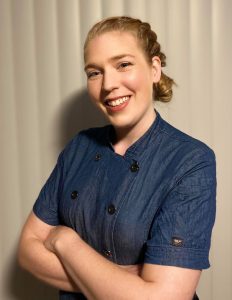 New Jersey born and raised, Brid Lee-Egan developed her passion for pastries at a young age while baking with her grandma. Fast forward, Brid graduated from the Culinary Institute of America with a degree in Baking & Pastry Arts Management.
Brid lets her creativity flourish as she loves pairing all different types of flavors and textures in unexpected, yet delightful ways! She often twists the classics and presents them with new flavors or she takes flavors from childhood and prepares them in a new and modern style. Since moving to Delaware, Brid went from Pastry Cook, to Sous, to Pastry Chef. She is always growing, always learning.