Youth Empowerment Summit Teaches Self-Confidence, Self-Love
"Self-confidence is a big one. Self-awareness, how to be a friend," said Susan Thomas-Holder, a long-time volunteer with the Choir School of Delaware, on what she hoped young women who attend the afterschool program would learn at the Junior League of Wilmington's Youth Empowerment Summit. Thomas-Holder did not stop there: getting along with children of other age groups, stepping up and being a mentor, how to seek out trusting adults were all on her list.
And the girls were on the same page. One eighth-grader said she would learn more about how to handle difficult relationships, and another wanted to work on expressing her emotions, and they did just that!
As the young women enjoyed lunch together after the Summit's formal program, they talked about their favorite parts of the presentations.
"Discussing friendships," said one.  Another said she liked that Wescott had shared her own story and discussed seeking out people to help boost your confidence when you are feeling low.
One of the older girls said the most valuable part of the Summit, for her, had been stepping outside of her comfort zone and thinking about how to express herself in a way she normally would not.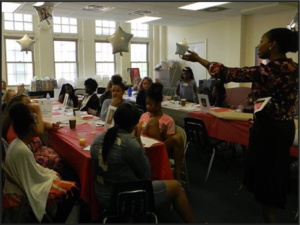 "I want our choristers to feel empowered and special. I want them to feel like they can conquer any challenge that comes their way. One way to do that is to have programs like this one that invite the girls, their parents, and our volunteers and staff to celebrate how great it is to be a girl," said Whitehead, prior to the Summit, noting that it is crucial to create a climate that fosters open and comfortable communication to address the concerns that young women face.
Congratulations to the Community Impact Committee on an excellent inaugural Teen Empowerment Summit!