The JLW Distributes Period Supplies at Two New Castle County Middle Schools
On April 30, 2021, The Junior League of Wilmington partnered with Delaware Rep. Valerie Maglio Longhurst and Sen. Kyle Evans Gay to distribute period supplies packs to students at Talley Middle School and George Read Middle School.
&nbsp>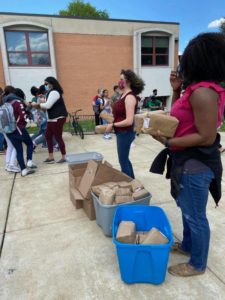 League Members assembled and handed out 500 kits at the two schools. NoMore Secrets MBS A Realistic Approach to Sexual Health also participated in the event and donated supplies to Kuumba Academy.
&nbsp>
This event came after Governor John Carney signed HB 20 into law, on April 8, which requires Delaware public and charter schools serving grades 6-12 to provide free feminine hygiene products in at least half of bathrooms.